Do you know that your fastpitch softball game depends a lot on the kind of bat you own? You want to ensure that you consider all of the options available to you so that you make the right decision for your bat. Luckily for you, we have come up with the best fastpitch softball bats for 2023-2024 Season here.
Choose the one that meets your requirements to most, and then see your game improve phenomenally.
While there are plenty of other softball bats out there, choosing the best fastpitch bats can surely do wonders for your game.
So, make sure that you're choosing the right one for yourself.
Related Articles:
Best Fastpitch Softball Bats for 2024
Hottest Fastpitch Softball Bats 2023 Review
1. DeMarini 2023 Whisper – Best Softball Bat in This List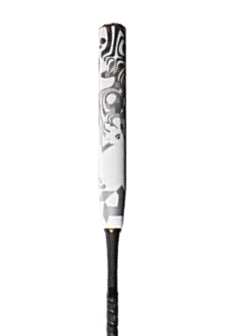 The phenomenal DeMarini Whisper is made with ground-breaking composite material. The bat is made with layered carbon fiber that is evenly distributed. The DeMarini experts are recognized for their expertise in creating and crafting abilities where they are able to fashion the end-loaded fastpitch softball bat for the pros.
It's easy to see how DeMarini's Whisper 2023 can easily become anyone's favorite softball bat. There are a number of options for fastpitch players yet not all would come under the category of becoming a "complete" bat. We have talked about the composite fiber materials it is made up of.
This gives the whispers an explosive barrel, resulting in lightning-fast swing speeds. However, its durability can hold up the rigors of the fastpitch games beyond the softball season.
The Whisper's unwavering strength looks promising to the experts of the fastpitch softball players and seems as if the bat will truly go a long way in 2023. Although the bat has only been released recently and there is not a lot of feedback that backs our claims, DeMarini stands on top of the game when it comes to the bat's durability.
2. Rawlings | 2023 | Mantra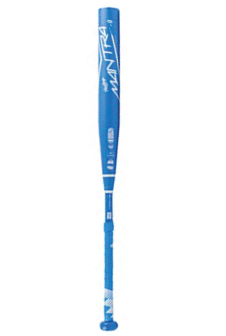 Rawlings Mantra 2023 come in with a drop weight of -10 and -9 suitable for both adults and young players. They also come in a range of sizes and weights, making it easy for players to choose the perfect fastpitch softball bat that will last throughout the season.
The bat features the thinnest outer barrels, which not many fastpitch softballs entail, which gives a beautiful trampoline on contact.
However, what most stands out about the 2023 model of Rawlings Mantra is the fully constructed and redesigned F2 collar assembly that creates an amazing harmony between flex and stiffness. This also ensures a better barrel drag experience and Lizard skin to get a better sensation grip and amazing swings with minimum vibrations.
The Rawling Mantra 2023 is crafted with a three-step inner barrel that helps create the perfect impact profile considering as the bat is equally balanced.
The Rawling Mantra features one of the thinnest outer barrels a softball bat could have. With almost 15% thinner barrel walls that create an astounding trampoline upon contact. The bat technically acts like a spring where when the ball comes in contact with the bat, the bat shoots off the ball back into the field, and that too with phenomenal speed.
3. DeMarini 2023 CF®
Having a solid feel with ultimate speed, CF suits all your fastpitch needs.
With this bat, get ready for amazing performance and improved accuracy with the Paraflex Plus Composite Barrel. This specialized composite material is designed to deliver maximum responsiveness across a wide surface area, giving you an unbeatable sweet spot.
With a type V CF connection, this bat becomes the ultimate hitting machine. This innovative new connection augments the performance of the barrel and gives a smooth, responsive feel that translates kinetic energy into your swings and not to your hands.
Like other DeMarini's best bats, this fastpitch bat also features a tracer end cap. This advanced piece of equipment is designed to give your swing that extra boost that can take your game to a whole new level. Made from lightweight composite material, it allows you to pick up speed without sacrificing any power.
All in all, CF gives you lightning-fast speed with unbeatable performance.
4. Easton | 2023 | GHOST UNLIMITED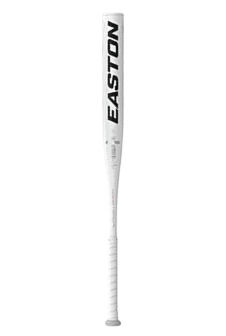 Easton has established a reputable name attributing the inclusivity it features for players of all sizes and ages. Easton fastpitch softball bats are meant to give everyone an opportunity to excel at the game of softball.
Easton implemented composite materials for many of the successful fastpitch softball bats, however for the 2023 Easton Ghost limited, the choice of material seemed well thought out. Many great fastpitch softball players prefer playing with aluminum alloy bats attributing to their stiffness. The stiffness in the bat creates additional power, and Easton seems to have made a conscious effort to maintain the bat's premium level at an industry-leading rate.
The composite barrel minimizes the sting from a mishit ball by reducing the vibration to the hands. Besides that, what many players would enjoy about this bat is that it offers a huge sweet spot than any other fastpitch softball bat.
2023 Easton Ghost has integrated technologies that enhance the performance of the hitters greatly and give one the leverage of being able to swing the bat freely. The grip the bat offers is out worldly, and the comfort can really be felt over through the swing with or without any added weight. The tack and cushion the bat offers give the bat an upper hand over any other fastpitch softball bat.
Unlike a few of the previous Ghost models, the latest version is approved for both USSSA and USA (ASA). Besides that, it even sports NSA, ISA, and WBSC certifications, making the bat approved for nearly all significant fastpitch softball leagues in America.
5. SLUGGER 2022 LXT
It's a Slugger's marvel for sure that is equipped with all the amazing features you can imagine.
Made to meet the needs of the elite players, this nonwood bat offers complete control like no other. It uses the company's patented single disc speed composite design having PBF Technology. Thanks to this technology, the bat has a gigantic sweet spot with pop that appears great. Even when you think that the contact is not made right, you get the right pop as the lower part of the bat is tuned finely.
With the VCX2 Vibration Connection System, this three-piece bat gets more flex with lowered vibration so you can play without any disturbance. The size of the barrel is maximized while enhancing sweet spot responsiveness by combining the speed composite design with the COPA Performance End Cap.
To improve your control while adding tack and cushion, it has the slugger's best pro comfort grip.
From the most balanced swing weight to the power and speed of preference, this bat can change the fate of the game in no time.
6. SLUGGER 2022 XENO
It's a perfect two-piece bat for the strongest players on the team.
Using Dual-Disc S1ID™ Barrel technology, the composite barrel is ready to be used just out of the wrapper. Thanks to this advanced technology, no time is wasted on the break-in period.
With the IST™ Technology Two-Piece Construction, the bat is one of the strongest in the market developed for the power hitters. If you want the solid stiff feel, then this bat truly has no comparison. It feels tough and remains rock solid on contact. The special X-Cap design complements the bat's solid construction and enhances performance overall.
Irrespective to the weight drop, the mass is distributed equally in the barrel which further takes the benefit of the stiffer connection. Thanks to this combo, the player enjoys the best power whenever the bat is swung.
7. DEMARINI 2022 CF
Made to improve the playing of the young travel ball and high school players, this DeMarini bat can change the game fate in no time.
This bat features lightweight swing with improved barrel control. Furthermore, no matter how many times you hold the bat, it always gives constant performance.
In this bat, there's a DeMarini special Paraflex Plus Composite barrel. It is highly durable and very responsive. The barrel is connected to the Paraflex plus composite handle with new Type-V Connection that directly transfers the energy on contact without affecting the performance.
Moreover, there is a composite tracer end cap to augment barrel performance. It maintains the integrity of the barrel along with reducing its weight overall.
With consistent performance and huge sweet spot, DeMarini CF is taking the field by storm year after year.
8. Marucci ECHO Composite Fastpitch Bat
With this bat, your hard work echoes in the field to destroy the opponents.
Experience explosive sound with the new MDX composite construction barrel, engineered for top-tier performance. Featuring a multi-directional design optimized to provide exceptional responsiveness and superior ball control.
The newest AV2 Anti-Vibration knob has been crafted with precision to provide an optimal feel and reduce unwelcome vibes. Its improved harmonic dampening system is tuned for maximum efficiency, giving you the most responsive experience possible.
Ring-free barrel construction gives your bat an advantage with maximum flex and no weak points, providing unparalleled performance.
Altogether, it is one of the best fastpitch softball bats to go for.
9. DeMarini 2022 Spryte (-12)
Spyrte is ready to fulfill your demand of being a top player.
The Paradox Composite Barrel is the perfect tool for young players looking to enhance their game. It's designed with a softer yet hotter response to get maximum power and performance out of your swings.
You get the perfect swing with D-Lite Handles in Two-Piece Composite Construction. This technology reduces vibrations for a smooth and comfortable experience on every hit. Additionally, with Big D End Cap, hitters can step up to the plate with assurance. Its special design helps with reduced vibration for optimal performance and confidence when every swing counts.
10. Louisville Slugger 2022 Nexus (-12)
Prepare to dominate every game with Nexus by your side.
Its new BARREL is designed with a 100% Performance Composite construction, giving you an expansive sweet spot and complete control at the plate.
The XCT Connection System is the pinnacle of engineering excellence, delivering exceptional feel on contact while taming unwanted vibration. It gives the best of both worlds.
Balanced swing weight is a perfect fit for players of all shapes and sizes, making it ideal to help bring out the best in any ball player's game.
Nexus is making appearances again and again, if you have yet to try it once, now is the time.
11. Easton FIREFLY | -12
Firefly sets fire in the ground with its amazing features,
Experience unparalleled power and control with the latest seamless carbon construction. This advanced technology runs from end to end, enhancing each bat's strength without compromising flexibility – so you can be ready for action immediately.
With the introduction of 2-Piece Connexion+ and Nitrocell foam, you can now feel a remarkable connection between your handle and barrel that is both lighter and exceptionally better.
It lets you enhance your batting performance with a balanced swing weight. This specially-designed bat's optimized balance point creates a smooth, efficient swing path through the hitting zone giving you faster control over every hit.
Overall, this bat has everything to make you happy and satisfied during your gameplay.
Why These Bats Are The Best Fastpitch Softball Bats for 2023?
If you are choosing the best bat for your fastpitch softball game, you should acquaint yourself with the ones mentioned on this list. Why is that so? Well, one of the main reasons is because they offer the optimal performance. Along with this, you will find these to be the ideal use for most players, while offering you the most comfortable grip. Let's dive deeper into what we mean by these things.
Improving your performance is one of the main reasons why you would want to get a good softball bat. Each of the bats we have mentioned ensure that you get to improve your performance. More than that, you will also find that it is quite essential to have the best mix of weight and features which allow you to work on your performance.
The bats mentioned offer you a balanced mix, allowing you to make the best out of your softball games. You will not need to worry about your performance going down after you make use of these. Instead, you are sure to see a complete opposite of this.
Now, when it comes to using the bat, you want to make sure that it offers you a good grip. You don't want to be using a bat that is not comfortable to hold on to. Instead, you would want to work with one that is comfortable to work with as you are playing. Each of the softball bats mentioned here offer you some of the best grips for you to play with.
There is no possibility of you worrying about an uncomfortable grip as each of these come with a highly comfortable one. The technology present in these bats is phenomenal when it comes to ensuring the player's comfort as they play.
Now, you want to make sure that the bats have a good use for anyone that wants to purchase them. That isn't true for every bat out there. Some are restricted for the use of certain players only.
The good thing about these is that you can use them without worrying about whether they are made for you or not. They are equally usable to people belonging to different age groups as they are lightweight and offer you great balance.
There is not much worry about when it comes to using this bat as it is can be used by a great range of players.
What Materials Of Softball Bats Are The Best In 2023?
Nowadays there is an ample amount of bats to select from. Whether we talk about composite bats or aluminum, the choice is huge. Even both are available in combination as well.
Which material is the best is a big debate. One has an advantage over the other if we see it from different perspectives, however composite is becoming the new favorite of many young players because of its amazing properties.
Aluminum Or Composite Bat: Which One Is Better?
Composite bats are made from carbon fiber polymer combined with fiberglass and graphite. While aluminum bats also known as alloy bats are made from aluminum. Composite bats and aluminum bats both have their pros and cons but composite bats are considered to be better because of many reasons.
#1. Better Swing Weight Control
Composite bats are the lightest bat available. Many times, only to augment the weight, a metal rod is inserted in the handle. Because of this property, it is easy to move weight from one end of the bat to another.
So, it is in the hand of the manufacturer to easily shift the weight around the bat to make it more responsive. The more closer the bad balance point to the handle, the easier it is to swing the bat which is the best property of the composite bats.
#2. Lower Vibration
Composite bats are better in dampening vibrations almost twice as aluminum bats. Their vibration dies very early. It comes under the natural properties of composite to dampen the vibration.
That's the one reason they have the most forgiving sweet spot among all. When a vibration dampening system is integrated into aluminum bats, it usually increases their weight as well.
#3. Better Stiffness
Composite bats show batter stiffness without compromising the performance. When stiffness is adjusted in the aluminum bats, usually the performance is compromised but that doesn't happen with composite construction.
#4. Huge Sweet Spots
Composite bats are known for their huge sweet spot thanks to their large barrels. It means the ball is never missed when the bat is in the hands of the right player.
All the goodness of the composite bat doesn't come free. When compared with aluminum bats, they are expensive. Furthermore, composite bats are not ideal to be used in the temperature below 65 degrees Fahrenheit.
When it comes to this condition, aluminum bats are used. Also, when you are in a haste, you cannot use the composite bats right away. They need 150-200 hits to break in which is not needed in the aluminum bats. There are certain new models though that don't need any break-in time.
So, in conclusion, it's true to say that nothing is perfect. So whichever bat you are considering, it depends on your own preferences. The bat having more features that you like is surely the bat that is better for you.
Composite comes with its own amazing qualities while aluminum also has its own perks. Your playing grounds also decide which one is better for you.
In Between Solution:
Many bat-making companies are now offering hybrid bats. This bat comes with the goodness of aluminum with the amazing features of composite as well. Mainly, the hybrid bats are the two-piece bats.
They have a composite handle combined with an aluminum barrel. Their price range also lies between a composite bat and an aluminum bat. They are ready to be used out of the wrapper and don't require break-in. Also, these bats can withstand any weather.
What Types Of Softball Bats You Should Choose In Youth Leagues?
For the youth leagues, the bat must be a softball bat. It must be a round and smooth stick made from tested and proven youth league material. For the Little League, the length of the bat must not exceed 33-inch.
While for the Junior/ Senior League, it is 34-inch. The diameter of the bat must not be more than two and one-quarter. For the wooden bat, it is fifteen-sixteen inches in diameter at the smallest part.
Non-wooden bats are required to have the bat performance factor printed of 1.20. Colored bats are allowed. Any slippery tape or alike material must not be used.
It is mentioned in the bat's specification whether it is certified to be used in any league. So before making your purchase, make sure you find the right model that is allowed in your particular league.
What Difference Between Fastpitch Softball And Slowpitch Softball?
Softball has many similarities to baseball but the larger ball is used. This sport further has two variants: the fastpitch and slowpitch. The main contrast between both lies in the manner in which the ball is being delivered. There are other differences as well, especially of the equipment that comes due to the difference in the nature of playing.
#1. Pitching
For the fastpitch game, as the name indicates, the ball is thrown at greater power with fast speed. The speed and strength make the ball straight and fast, so the hitting becomes harder.
In this type, the play relies on the picture and the ball he delivers. A powerful pitch with a deceptive movement is usually the requirement so the ball becomes harder to hit. Also, the pitcher focuses on striking the batter out as soon as possible.
On the other hand, in the slowpitch match, the ball is delivered at moderate speed and makes a projectile. It makes it easy to hit the ball.
In this game, the defense team is under pressure as the batter has a better chance to hit the ball and make the move. The ball enters the play and the whole team has to give complete efforts to win.
#2. Team Players
There is a difference between the team players as well. The fastpitch game has nine players and nine innings. In contrast, slowpitch game is being played by ten players in a team with seven innings. Every player in the team has their duties to perform.
#3. Ball Size
In fastpitch softball, a regular 11-inch ball is used. While for the slowpitch match, a 12-inch ball is used so it can travel at a slower speed. Even some rare leagues allow the use of a 14-inch ball in the slowpitch game.
#4. Bat
There is also a difference between fastpitch and slowpitch bats. Fastpitch bats are typically designed to hit the ball coming at a faster speed. Their unique features make them easy to swing and allow quick reaction.
Whereas, the slowpitch bat has the ability to drag the ball across the field which is thrown at the speed of around 25mph. It is designed for slugging the ball.
#5. Gloves:
The catcher mitt is needed for catcher in the fastpitch match because the ball speed exceeds 50 mph. While for the slowpitch game, even the fielder's glove could do the job.
Pitcher gloves also differ as in the fastpitch, the pitcher has to conceal his finger placement on the ball to add variation to the delivery. A closed webbing mitt is used to do this job. But, in the slowpitch match only one type of pitch is used so no hiding is required.
Learn These Things Before You Pick Any Fastpitch Bats
When you're making a decision for buying a fastpitch bat, you will have to consider a few things before the purchase. Don't just go on to pick whichever bat you find first.
Consider the basic details so that you don't end up making the wrong choice. Let's have a look at what you will need to learn about before you pick any fastpitch bats.
The length of the bat proves to be quite essential when choosing a bat. You don't want to just go for any option in terms of length. Instead, you would want to choose the length of the fastpitch bat which is right for you.
You can easily measure the length of the bat by placing the knob of your bat in the middle of your chest and extending it out towards the end of your hand. You can grab on to the bat using your fingers through this process.
The length of the bat should fit ideally within this space. That is how you will be able to determine that it is the perfect option for your use.
Along with the length of the bat, you would want to consider the weight of the bat. Some people prefer to make use of lightweight bats, while others prefer using heavier ones based on their physique.
Carefully consider the drop weight and the overall weight of the bat before you make the purchase so that you don't have to worry about ruining your play with this.
You will find that a drop weight of the range -13 to -10 is ideal for younger children. However, as you grow older, you might want to consider relatively heavier options for your softball games.
Not every bat is made to be played for all the leagues present. There are specific certifications attached that allow you to make use of the bat for a particular league.
So, make sure you know what league or certification that bat has to allow yourself a free range when it comes to playing. Sometimes, you will also find that the bat offers you multiple leagues use, so you will have to figure these details out when you are buying the softball fastpitch bat.
Best Fastpitch Bats for 2022
1. Demarini 2021 Prism
Fiber composite barrel
Type V™ connection
Refract end cap
Balanced swing weight
Elite performance
The 2021 Prism is an exceptional fastpitch bat. If you're looking for something that will ensure that you have the ultimate balanced swing weight, then this one takes the cake.
Don't worry about the grip or the construction of this fastpitch bat as it ensures that you get the ultimate experience while using it. Along with that, you will find the bat to come with a gapped wall continuous fiber composite barrel. What this ensures is that you get to maintain a balanced swing weight, while also making sure that you get a high performance out of this bat.
You will also find this bat to offer you a V™ connection, which is made to ensure that your bat offers you the best performance there is. You will be stocked to see that -11 drop weight, making it perfect for different age groups to make use of it. Along with this, you will find the bat to have a refract end cap, allowing you to garner more speed for your bat and improve the overall performance of it.
---
2. Slugger 2021 RXT
Responsive composite design
HVF-1 Technology ™
Two-piece design
Springload™ construction
Balanced swing weight
The slugger 2021 RXT is one of a kind as it is made using a responsive composite design, while also carrying a patented HVR-1 technology.
You will find this to offer you a great pop as you make your hits. The technology used is phenomenal in many ways. You get to make sure that you get the maximum speed, without worrying about the bat being too heavy to hold on to. The construction, you will notice, is two-piece featuring a Springload™. This connection system is made to offer you more responsiveness from the bat, which is why we started off with how it is one of the most exceptional responsive composite designs.
You further get to enjoy a more balanced and controlled use of this bat as it comes with a balanced swing weight. So, the ratio of the weight and speed is quite amazing when you're using it. More than that, the end cap features a COPA™ performance, maximizing the sweet spot for your hits. But that is not all. The cushion grip is exceptional for this bat as is comes with the infamous LS Pro Comfort Grip ™.
---
3. Axe Bat 2021 Avenge Pro Power Gap
Two-piece construction
New power gap blastwall barrel
Shock suspension technology
HyperWhip Composite
Fastpitch Axe handle
The Axe Bat 2021 is a two-piece construction, which allows you to exercise greater speed and power as you play with this.
You get to make use of this to maximize your speed, power, and precision through this bat. The technology used by the bat makes use of a thin air gap which not only adds to the sweet pop you hear as you make a hit, but you are able to also deliver even greater performance as you play. Along with this, you get to minimize the vibrations you feel with every hit using the New Shock Suspension technology.
The grip is perhaps one of the most comfortable ones available in the market. You get a good control over your play and are able to swing the bat faster than ever. Along with this, you will find that the HyperWhip composite cap offers you a sleek design, which is lightweight and exceptional to make use of for your softball play. Maximize your grip and improve your game with this exceptional bat.
4. Easton GHOST ADVANCED
Double barrel
Launch composite technology
Power boost
Connexion evolution
Custom bat grip
The Easton GHOST ADVANCED is a double barrel second generation barrel construction bat which is made to offer you some of the best results when it comes to your play.
You will surely be surprised to see how the bat is exceptionally lightweight, while it offers a great speed and hit to you. That has to do with the exceptional construction of the bat. The stronger outer barrel and the lighter inner barrel allows you to get more flex and an even better performance.
The launch composite technology further enhances the performance as you are able to work with a light and strong barrel. More than that, you get to make use of the sweet spot that the barrel has to offer you. There is more to this bat, as it ensures that you get the ultimate power boost from it through the patent-pending Soft Knob technology. You get more leverage and power as you make your way playing with this bat.
---
5. 2021 Anderson Rocketech Flash
2-1/4th barrel
Balanced weight distribution
single-wall alloy design
-12 drop weight
Exceptional power
The Anderson Rocketech is surely a great option if you're looking for the ultimate drop weight.
It offers you about a -12 when it comes to drop weight, offering you an extremely lightweight option. More than that, you will find that this is also ideal for younger children as well. A drop weight of -12 works for children as young as 4 years old. So, you will find it to be an ideal fastpitch softball bat for beginners as well. The one-piece construction is phenomenal as it ensures that it offers you a balanced weight distribution as you play.
Along with this, you will note that the barrel of the bat covers about 2-1/4th in diameter, so you get to maximize the spot for your hits. It offers you a full alloy design, which ensures its durability and long use.
Final Words
When considering the best fastpitch softball bat for 2023, you will need to make sure that you have the right information in your hands. Try to make sure that you know what type of bat you wish to buy for yourself and the details of what a good fastpitch softball bat covers.
Here, we have discussed all there is for you to know about the details of such bats. More than that, we have also made sure that you have a list of the 8 best fastpitch bats for your game.
So, hurry up, and make the right choice when it comes to this. You don't want to end up with something that will push your skills down. Select the bat from this list and see an improvement in your overall performance.
Other Popular Articles: