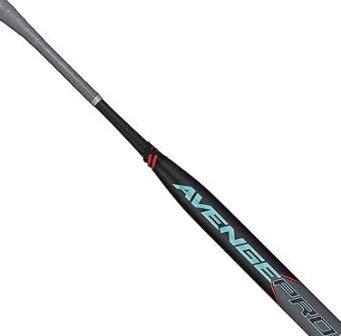 If you are on the look-out for a baseball bat that is major league material, then going for a USSSA certified bat is your best. So, without further ado let's take a look at the best USSSA bats of 2023 – 2024.
The USSSA bats are stamped with the approval of the United States Specialty Sports Association. They have set the criteria for manufacturing baseball bats that meet the highest standards in terms of performance.
Here's all you need to know about the ultimate USSSA baseball bats.
Hottest USSSA Bats 2023-2024
Best USSSA Bats 2023 – 2024 Reviews
1. Axe Bat 2023 Avenge Pro Balanced Dual Stamp USSSA
Axe Avenge Pro is available in fastpitch softball, BBCOR, and USSSSA baseball versions. Axe bat is a fairly unique name in the baseball industry since it does not share many common attributes that many bats would normally have
The composite handle x aluminum creates a ground-breaking barrel while eliminating the negative vibrations felt at the hand at the time of the contact. The new bat is the hottest launch of the year fully built with composite and has a multi-piece design. It is not often you see a bat that delivers quality, performance, and comfort all in one.
The new vibration canceling system technology is introduced in Axe bats and that's what makes the bat Avenge pro from the original Axe Avenge. This new feature implements the technology to create a more comfortable and confident swing for the hitters. The vibrations traveling from the barrel to the handle and ultimately to your hands are significantly reduced.
Axe introduced a more technologically advanced bat with even premium features the Tri flex Blast wall is the technology that is only implemented in the Axe Avenger Pro. It is an energy dispersion barrel technology that will improve the durability of the bat along the entire length of the hitting area.
2. Louisville Slugger 2023 Meta® One (-12)
Featuring ultra-balanced weight and an advanced overall design, Meta One is the bat that gives power and speed to all.
This two-piece hybrid bat has the EKO composite barrel designed for players who are looking to hit the ball further and with more power. It has a lightweight barrel and an optimized sweet spot to help you achieve maximum results on the field. Additionally, its construction results in an incredibly true sound when you make contact with the ball, providing an added level of satisfaction.
Things are further improved with the use of the GT1 end cap. When you want to add more power to your swing, its maximum barrel length with ideal swing speed makes you hit the ball farther and with added power.
This bat grip, Premium LS Pro Comfort Grip, is designed to help you to have a better feel and with enhanced control. It is made with a soft material that will make it easier to grip the bat confidently while hitting.
From one end to another, this bat is more than perfect for all USSSA leagues.
3. Easton | 2023 | BLACK MAGIC | Multiple Sizes
Easton's magic is evident in this Black Magic USSSA baseball bat.
The R5 alloy barrel is made for high performance and sturdiness. It is produced using a lightweight alloy that gives it a high barrel response. It has a flywall ringless design; it is very tough and can handle a lot of wear and tear. It has a bigger sweet spot and a smoother feel at contact.
This power boost soft knob technology is a game-changer for hitters of all levels. It lowers vibration and provides better control.
The R5 Alloy and FlyWall Barrel Design work together to create a loud and confident "ping" with every swing. This premium sound is perfect for added confidence and more fun while playing.
On the whole, this bat is great for competitive players who want a bat that can keep up with their power and speed.
4. Easton | 2023 | Encore Hybrid Baseball Bat
With this hybrid bat, every game gives you something to celebrate.
The Ringless R5 alloy barrel is thinned out in Encore by 30%. Thanks to this, you get a thinner barrel wall with a huge sweet spot and an extreme trampoline effect.
The 2-Piece Purelynk CXN provides the most stiffness, energy transfer, and power at contact due to its direct connection of the handle to the barrel. This composition augments the energy transfer from your arm to the ball, resulting in more powerful shots.
Its power boost soft knob allows players to get the most out of their swings while ensuring a smooth and comfortable experience. It lowers vibration and adds more leverage. Constructed using the extra stiff carbon fibers, you get the solid feel you like.
This bat is the best to go for when you want more power with a perfect design.
5. MARUCCI CATX Composite USSSA Senior League
Whether you are learning or a pro, CATX is made to give you the best all the time.
It comes with a stiffer-40 composite handle. It is designed to help you transfer energy more quickly from your body to the ball for better performance. The improved grip and flexibility help you easily control the bat, while the advanced construction ensures maximum power and accuracy.
You get extra speed with the fine-tuned barrel profile and balanced swing weight. The MDX barrel features multi-directionally patterned layers that create an ultra-responsive barrel. This barrel becomes sturdy and durable to provide a smooth and strong swing.
It also has an outer locking system. Thanks to this, you feel zero vibration when you make your move.
Overall, this bat offers all; it fits better, offers more control, provides a powerful swing, and makes you a champion every time.
6. SLUGGER 2022 META® ONE (-12)
EKO Composite Barrel
GT1 End Cap
Premium LS Pro Comfort Grip
One-Piece Construction
Ultra Balance Swing Weight
The Meta One is here to give you the most lightweight feel of all time. It's built mainly for younger players as its drop weight is an astounding -12. This means that you'll be able to enjoy playing with a lightweight bat and not worry the weight at all. Not only this, but its one-piece construction further adds to its light feel and easy play.
Players using this bat find it extremely easy and comfortable to play with. The Premium LS Pro Comfort Grip is there to ensure that you're comfortable throughout the time you're on the field. It provides you a stiffer feel with its EKO composite barrel and gives you an outstanding energy transfer every time you play with this.
The GT1 end cap tops off all the other features this bat brings to you as it enhances the barrel length and gives you one of the most exceptional swing speeds of all time. The composite bat allows you to make the most of your play by offering you an extremely balanced swing weight. This can be the perfect addition to your play if you wish to improve your overall hits.
7. DEMARINI 2022 THE GOODS ONE PIECE (-10)
X14 Alloy Barrel
Tracer End Cap
One-Piece Construction
2 3/4" Barrel
Lightweight Composite Material
If you're looking for something that's strong and durable, then the Goods One Piece is the way to go. You'll find this baseball bat to give you great play and more. The drop 10 weight is ideal for most players, and you'll easily find yourself getting used to it in no time. Along with this, the X14 Alloy barrel is quite exceptional on its own. While the barrel is massive, its packed in an extremely lightweight frame, allowing you to not feel too much of its weight.
Players that enjoy maximizing their energy on the field and hitting those hard balls are going to have fun with this. It's made for you to showcase your power and skills on the field. The one-piece construction ensures that you're able to balance out the weight easily and ensure a non-stop effective play. The Tracer end cap further helps in making sure that you get a lightweight feel while you're on the field.
The baseball bat gives you a stiff feel and transformative energy every time you use it for your play. It's quite exceptional and will surely give you the best time on the field. You get to optimize your barrel performance and ensure that you have great control over your play.
---
8. Marucci CAT9 COMPOSITE USSSA Senior League
Multi-directional composite barrel
Outer-Locking System
Two-piece composite construction
28 inches' barrel length
Ring-free barrel construction
The Cat9 by Marucci is yet another USSSA certified bat that delivers strong action on the big leagues pitch. It has a unique multi-directional composite barrel to ensure extra responsiveness.
The barrel is also designed ring-free so that it retains its stiffness for aggressive hitting. This is a huge plus point because a ring-free design means that the bat has a huge sweet spot with virtually no dead spots. This allows the player to hit hard and hit fast.
Overall, the bat is constructed in a two-piece composite fashion. A special outer-locking mechanism is used to attach the handle so that all extra vibrations are minimized to ensure that sweet powerful swing.
Hardly any other bat has this feature so the Cat9 definitely stands out from the crowd and deserves bonus points for its special construction.
The Cat9 also has an extra-long barrel length of 28 inches so that there is more than average area for contact. This bat allows the player to swing harder and drive the ball further afield compared to other more run of the mill bats that are a dime a dozen on the market these days.
---
Which USSSA Certified Bats are to be used in Baseball and Softball?
When you go out to purchase a USSSA certified bat there are some things you should consider so that you purchase only the most functional and efficient bat.
All baseball bats that are USSSA approved will have a stamp that indicates they were manufactured in line with USSSA standards. A quality baseball bat will also be designed to generate strong performance.
It will usually have a robust composite barrel and a weight drop rating of -10. Like we said earlier, the DeMarini or the Slugger are your best options if you want a good USSSA certified baseball bat.
When it comes to softball bats, watch out for the USSSA stamp or the green knob which signifies that the bat is USSSA approved. A good softball bat will have a light yet powerful swing.
However, before you decide on the bat of your choice do look at what format it was designed for. Some softball bats are designed for a fast pitch while others are made for a slow pitch format. So, do check out the markings on the barrel to make sure you get the correct one.
Related Questions
There might be multiple questions on your mind about USSSA bats. Let's have a look at some of the more commonly asked ones.
What is the hottest USSSA bat?
If you're looking for one of the best options for USSSA bats, we're going to go with the DeMarini ones. Why is that? Well, for starters, they're probably one of the most reliable options available in the market. They offer you control, great impact, and an exceptionally lightweight feel. There's not much to think when you're looking for the hottest USSSA bat, it'll always be a DeMarini as they've remained quite popular since a while.
What is the difference between USSSA and US bats?
The main difference between USSSA and USA bats is their usage and performance. USA bats are mainly designed for younger players to make use of as they're super lightweight and easy to start playing with. However, USSSA bats are more towards the heavier side and are mainly used by professionals or those entering in USSSA tournaments.
Can I use a USA bat in USSSA?
The short answer to the question is that you can use USA bats in USSSA tournaments. However, professionals will always recommend that you don't as they don't offer you the power and performance required in a USSSA tournament.
Can you use USSSA bats in Pony League?
Pony League allows the use of USA standard bats. USSSA bats are heavier and shouldn't be used for such tournaments.
Can I use a USSSA bat in Little League?
Little League now allows the use of USA standard bats as they've got big barrels but are lightweight. USSSA bats are heavier and should only be used in tournament that they're permitted use for.
What is the difference between USSSA and Bbcor bats?
When comparing USSSA and BBCOR bats, the former has a higher Bat Performance Factor than the latter. USSSA bats come in a range of barrel sizes and are used mainly for youth level travel baseball.
Do USSSA bats have more pop?
As USSSA bats have a higher BPF, they tend to have a better pop than most baseball bats out there. So, you'll enjoy playing with USSSA standard bats as they'll give you that fun sound you're looking for while making contact.
If you're looking for the best USSSA baseball bat for yourself, then make sure to choose one of the four mentioned here. There's no better option for you to try. So, go on and take your pick and see yourself improve your play drastically.
Conclusion
That's it! Now you know which USSSA certified bats are the ones worth investing in. No matter which format you play for whether it is baseball or softball this list has something for everyone.
We hope that this informative guide has given you all the information needed to buy a top-quality USSSA bat that always exceeds performance expectations.
Popular Articles: