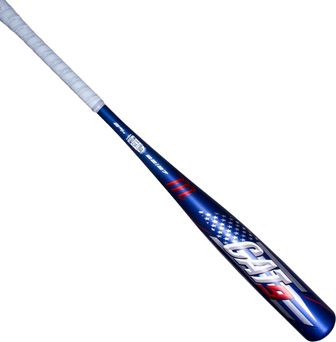 These are the best bats for coach pitch 2024 for your child, as these bats are designed and really fit for that age group.
With the market so saturated with all types of products, it can be difficult to discern which products are well worth it and which aren't. Well, there is no need to fret; we've got your back with a list of the best coach pitch bats in 2024 here!
Best Bats for Coach Pitch 2024
Coach Pitch Bats Reviews
1. Marucci CAT9 Pastime -10 USSSA Junior Big Barrel Bat
AZR Alloy
Longitudinal Groove System
Anti-vibration knob
Ring-free barrel
This coach pitch bat is one of a kind with some incredible features, and so we just had to add it to this list. The Marucci CAT9 Pastime bat has an incredibly eye-catching appearance, with its base color being a vibrant blue on which the red and white details stand out.
Combine that with a light grey holder, and you've got one of the best coach pitch baseball bats in 2023.
Not only is the appearance of this bath great, but so are its features. The Marucci CAT9 is incredibly robust as it is made of aluminum. Each bat in the manufacturing stage goes through a 3 stage thermal treatment process and features AZR alloy, which makes this bat perform better than others.
The use of LGS within the barrel wall's thickest structure allows this bat to be incredibly lightweight and much more flexible, making it one of the best for coach pitch. You will also feel minimal to no vibrations when the bat comes in contact with the ball. One of the best things about this bat is that it features no dead spots.
2. Rawlings Threat USSSA Baseball Bat
The composite design of 100% carbon fiber
– 12 drop weight
Two and three-quarter-inch barrel
Lightweight end cap
USSSA Certification
Love a top-tier product that isn't too expensive? Well, then, this is the bat for you. The Rawlings Threat USSSA Baseball Bat is ideal as a bat for coach pitch. It is specifically made for kids between the ages of 8 and 12. The great thing is that it is available in five different configurations, which start from 27 inches to 31 inches.
The Rawlings Threat USSSA Baseball Bat is perfect if you want the ball to fly even higher on contact and improve performance. It is also incredibly lightweight, which means that your child will have an easier time swinging the bat, that too, at a faster speed. The large size of the barrel also allows for higher plate coverage.
3. DeMarini 2022 Uprising Junior Big Barrel Bat – Best Bat for 7 Year Old Coach Pitch
Ion D end cap
Lightweight
Alloy barrel
Durable
The DeMarini 2022 Uprising Junior Big Barrel is a USSSA-certified bat that will up your game and will not empty your wallet.
This bat is regarded as the best bat for coach pitch due to its lightweight composition, which makes it easy for young kids to hold and swing. So if swing speed is something your child struggles with, this is the one to get.
The DeMarini also features a DX1 alloy barrel, which makes this bat incredibly durable and robust. In addition, it comes in 5 sizes ranging from 26 inches to 30 inches.
4. Easton 2018 USA Baseball 2 5/8 Ghost X Hyperlite
Sizeable diameter for barrel
X tended design
Composition using one piece
Durable
Ergonomic
Powerful
This sleek bat will surely be a hit amongst your child and their friends. While this Easton bat does have a hefty price, it is well worth it once you get to using the bat in the field.
This bat has some incredible features, which include its length-to-weight ratio, that is, drop 11. This makes the swing incredibly fast, yet the bat is easy to hold, particularly for younger children.
You'll also be able to hit the ball with the sweet spot at all times as the barrel diameter it features is 2 ⅝ inches. The barrel is, in fact, its star feature as it also features an X-tended design, which helps in balancing the weight of the bat while swinging. This helps the player perform exponentially better,
5. Rawlings 2021 Quatro Pro USA Baseball Bat Series
This bat for coach pitch is truly one for the books. Not only does it stand out in its look but also in its performance. The Rawlings 2021 Quatro Pro USA bat allows for the speediest balanced swing due to its drop level at a -10.
It's the perfect bat for kits as it has been manufactured using a two-piece fiber composition, which makes its weight incredibly light and balanced while swinging. Its composition also allows for a smooth feel when the bat comes into contact with the ball, so your child will have no trouble hitting the ball hard and feeling vibrations as feedback.
You'll also find that the bat features stiff focused flex, which makes this bat much more powerful and helps protect your child's hands. If your child loves to hear the pop sound when hitting the ball, then this bat is surely the perfect one as you'll hear the highest and most perfect pop sound on contact due to the use of strategically located carbon fiber discs throughout this bat.
Features
Available in three different colors
Redesigned F2-focused flex collar
Vibration reduction
Carbon fiber discs
27 to 31-inch configuration
6. Axe Bat Short Trainer Training Bat
This bat is truly one of the best bats that you can buy in 2023. It does it all, from improving performance to being incredibly lightweight. It is particularly known for its handle, which is patented and, therefore, truly one of a kind.
Its handle is constructed to ensure that it provides an incredibly stable grip at all times, so if your child struggles with bat slippage anytime they go to take a big swing, with the Axe bat short trainer, your worries will be long gone.
In addition, the 28-inch version of this bat has specifically been developed to improve player posture due to its impressive barrel awareness and height adjustability.
Features
Patented handle
Faster swing
Made of alloy
28 inches
31 oz. in weight
7. Axe Bat 2023 Strato Junior Big Barrel USSSA Bat
Available in three colors
Made for baseball and T-ball
Composed of aluminum
26 inches
16 oz
Made for children between the ages of 5 to 8.
Despite being as long as 26 inches, the weight of this bat is just 16 oz, which is half of what other bats for coach pitch weigh. So, it's ideal for younger childer in the junior league, such as children from five to eight years.
Additionally, this bat does not compromise strength and durability despite being lightweight. This is because this bat features a 2 ¾ inch alloy barrel and a HyperWhip end cap, which allows it to perform as well as it does.
8. Easton REFLEX -12 USA Youth Bat – Best for 6 Year Old Coach Pitch
Zero carbon handle
6-month warranty
Lightweight
Stiff handle
Zero vibration
Responsive barrel
A bat so reasonable, you'll be shocked at how amazing its performance is. The Easton REFLEX bat for coach pitch is one of a kind and perfectly suited for children. It features the lightest composite material, which makes its handling incredibly easy.
The extra stiff handle also helps strengthen your child's grip on the bat. The layup composition also helps absorb any vibrations at the point of contact. So your child won't feel any feedback.
9. EASTON QUANTUM -11 USA Youth Bat – Best for 8 Year Old Coach Pitch
Multi-colored
ALX performance alloy construction
Concaved end cap
High durability
Lightweight
Great balance
Warranty
Available in 6 different sizes, the Easton QUANTUM bat is one of the best coach pitch bats that you can get your hands on. The sizes this bat is available in all range from 26 inches to 31 inches, so you'll be able to pick out the size and weight that fits your child perfectly.
In addition, the Easton Quantum bat is constructed using ALX performance alloy, which makes it incredibly durable. Not to mention that the strong construction also makes the bat incredibly powerful, allowing for the ball to reach new heights.
The great thing is that this bat has received certification to be used in every baseball league in the United States. So, you know that the Easton Quantum bat is the best of the best.
Conclusion
Now that you've made it to the end of the list best bats for coach pitch 2024, we're sure that you've got at least three different bats for coach pitch in mind. All that is left is to find the best-suited bat for your child.
The best way to do that is by comparing these bats in terms of price, the age group the bat has been designed for, weight, durability, and other characteristics. There's no greater feeling than knowing that you did the best for your child.
Related Articles: