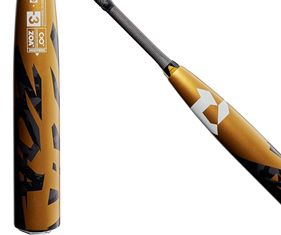 Finding the best BBCOR Bat for your little league players can be a tiresome process. There are many things to consider especially the weight of a bat which should be light for smaller players.
Do not worry! We have researched 12 of the best BBCOR bats for smaller players 2023 – 2024. These will help you in selecting a perfect companion for your little one.
Best BBCOR Bats for Smaller Players 2023 – 2024
Please read below our top 12 best BBCOR bat recommendations in this category:
Play with fire this time – Voodoo has come super hot this year to give you all the power you deserve.
2022 is also a Voodoo year like the previous ones. It will continue to astonish the players again. Voodoo fans will enjoy an amazing combo of perfect swing speed with smashing power in this new bat.
For the barrel, this bat features its signature X14 alloy that gives you maximum pop with the ability to take the ball wherever you like. The bat has one-piece construction and it gives you the stiff and powerful feel and enhanced exit velocity.
This latest edition is equipped with a new lightweight Tracer End Cap that improves overall barrel performance and adds wonderful bat speed. The end cap is made from lightweight but sturdy composite material to make things better for you greatly.
So, if you are ready to take the field dynamically, this Voodoo edition will make sure you achieve your dream goal and win every match.
DeMarini introduces the newest generation of baseball bats with Zoa having all the improved features to be a game-changer for you.
As the new member in the composite BBCOR lineup, Zoa is innovative and bold and bombarded with every feature to make it a winning machine.
Whether it is barrel control, bat speed, or power, this bat offers the best combination of all thanks to its continuous Fiber Composite barrel construction. This construction gives an elongated barrel profile to improve your performance. The long unbroken fibers give ultimate strength to the barrel. The stiffness of the material allows the bat to give you enhanced energy transfer on contact.
This bat provides consistent performance every time so you can enjoy your playing forever. It is for those who want a huge hitting area and need it to be flawless.
This bat features two-piece composite construction and has the perfect combination of the stiffer handle with the high-performing barrel. With its handle, you enjoy an amazing feel on contact and super energy transfer. The weight is also perfectly distributed for better control.
Furthermore, for the end cap, you get a combo of lightweight and durable material that keeps the barrel in the best shape to give you the performance you like.
Demarini has spent many years in the bat-making industry and its experience is evident in this new masterpiece that will be remembered for a long time.
Meta is back with more power and energy like never before.
The latest Meta is specifically made for power. From the perfect balance to the powerful feel, it comes with all.
The EKO composite barrel is the future barrel that allows you to perform like no one else. This barrel has the lightest swinging profile that you can hold on to with unimaginable power. The sound produced is what you want to hear.
Meta has a three-piece construction secured using the company's patented 3FX™ Connection System. Thanks to this, the contact feels great. However, the missed balls are also not bad with the special vibration dampening system.
It has a gigantic barrel that you can have. Not only that but the barrel length is also augmented using Premium GT1™ End Cap. It adds extra power to your swing to take the ball as far as possible.
LS special Premium LS Pro Comfort Grip is also the part of this bat to give you complete comfort no matter how long you have been playing.
Meeting all the BBCOR standards with a balanced feel, Meta is surely one best bat from Louisville Slugger that will be having more editions in the coming years for sure.
Avenge Pro is back with all the amazing features to make it your favorite again.
It's a company's best hybrid bat having two-piece construction. Designed for high-level power hitters, this bat has lightweight for fast swing.
Made using premium MX8 Alloy, this bat features a more powerful shock suspension connection so you can play without any disturbance. All the vibration is absorbed before reaching your hands. Further, the functioning of this connection is enhanced using Endogrid technology in the handle to dampen bottom hand vibration. It results in more powerful and accurate shots.
The bat offers the super combination of power, speed, performance, with durability that makes you use this bat season after season. For the end cap, you have HyperWhip Composite Cap that further increases the speed with swing efficiency.
Being just perfect out of the wrapper, this bat is more than amazing with its smoothest swing, gigantic sweet spot, and powerful energy transfer. Overall, it is the bat that destroys the confidence of your opponents in no time.
This year again, CAT9 CONNECT is ready to take the field by storm.
Having more performance and strength, this bat features the new AZR alloy using a three-stage thermal treatment process. This makes the bat more forgiving and responsive. The overall feel is also improved as compared to the old editions.
The barrel and handle are connected using Marucci's special outer locking system. It makes the connection unbreakable while eliminating any vibration at all. With this feature, you enjoy smooth and strong swing speed like never before.
Thanks to the Longitudinal Groove System, the barrel is made very light weighted with enhanced flexibility and improved performance. Moreover, multivariable design wall design improves the performance with the huge sweet spot and thinner walls.
All in all, CAT9 CONNECT is ready to exceed your expectations this time to give you the best of everything.
Ready to be the superstar of the team, Solo is ready with you as well.
Solo features hyper superlight alloy that gives light swinging weight to the barrel with a thin wall design. Additionally, the weight is reduced at the end of the bat by using SPD Composite End Cap that in turn enhances swing speed.
Thanks to the Vibex premium vibration dampening handle, the feel is enhanced with no vibration at all. Furthermore, the comfort is made better with the premium LS Pro Comfort Grip that also adds more control. This bat is the ultimate combination of power and speed.
Its easy swinging profile, perfect pop, and balanced weight make it one of the best and players are choosing this bat again and again.
Victus Sports, with its headquarters in New Jersey, takes pride in manufacturing handmade elite baseball bats for all the enthusiasts out there. With their Vandal lineup of baseball bats, Victus aims to steal the show!
Vandal -3 is made from a composite barrel which has an ultra-balanced hybrid design. Its barrel has multivariable walls having different thickness that allows for an enhanced sweet spot which in turn results in unparalleled performance.
Keep in mind that this is a ringless 2 5/8" diameter barrel design. Faster bat speed is achieved thanks to this bats low Moment of Inertia (MOI).
Its pro-tapered handle design offers better bat control as well as a comfortable fit when you hold Vandal in your hand. This handle is covered in a micro-perforated grip which is soft to touch and has additional tack to it.
With a -3 drop-weight, this model is available in 5 size options. It is BBCOR certified, and it has a beautiful Black/White/Gold color combination. Players around the globe provide that Vandal was a great investment with tons of pop.
It has quite an impressive sweet spot and is considered a must-have for smaller players!
The Sports T-man bat from the Tyranno line which is ideal for both kids and teens. The barrel has a diameter of 2 5/8 inches and it is made from a durable alloy that is lightweight and super responsive. The walls of the barrel are ultra-thin which is another reason why this bat is so responsive and has such a great pop quality. Rest assured, this bat provides the ultimate high-powered batting experience.
The Sports T-man also features an optimal end cap that has both stiffer and more flexible components. The absolutely killer combination of these different components ensures that the bat has super-fast yet balanced swing speed.
This baseball bat also has a composite handle that is also quite stiff and sturdy for some smooth swinging. The handle is covered with an additional layer of cushioning to protect the hands and improve grip. Thanks to the extra cushioning you won't have to worry about your little player getting sore hands.
Features:
Alloy barrel
Barrel Diameter 2 5/8 inches
Optimal End Cap
Composite handle
Extra handle cushioning
Moving on, let's take a closer look at the Marucci CAT7 that is another great contender for the position of best BBCOR bat for the smaller player. The CAT7 is made out of a robust AZ4X aluminum alloy and follows a multi-variable wall design.
This unique wall design is used to create a barrel with extremely thin walls that are more responsive and can even help you counter the trickiest pitches. Even if the bat makes contact off-center, it is designed to still help players through the zone with a combination of faster swing speed and optimized barrel power.
The amazing design choice involved in the making of this bat also create a ring-free barrel that does not have any dead zones. The ring-free barrel ensures that the bat has an optimized surface area for hitting that results in a huge sweet spot.
Since the CAT7 is made using a one-piece design it is super lightweight and easy to work with especially for kids and teens. However, the problem with one-piece bats is the sting vibration that comes from the rebound after a powerful hit.
But the CAT7 nimbly sidesteps this issue with its AV2 Anti-Vibration Knob that virtually eliminates all that painful sting vibration.
Features:
AZ4X Alloy
Ring-free barrel construction
Multi-variable wall design
One-piece Design
AV2 Anti-Vibration Knob
From Baton Rouge, Louisiana, Marucci Sports takes lead in producing premium baseball equipment for its customers. Their latest CAT8 model has a big barrel and is constructed for juniors.
Made with AZ105 alloy, this one-piece bat has strongest construction, offers a consistent swing and has enhanced response rate. Its Multi-variable walls combined with a thinner barrel allows for a larger sweet spot.
Its ring-free barrel construction leaves no room for dead spots. This means that your bat will give excellent performance irrespective of the spots of impact. With lower Moment of Inertia, the precision-balanced 2 ¾ inches wide barrel results in precise hits with great control.
Its handle consists of a taper that is easily removable, a Micro-perforated gray colored 1.75mm grip and a 2nd generation AV2 Anti-Vibration Knob. All these features combine to offer enhanced comfort, more control and an overall better feel.
CAT8 is a perfect bat for junior players. Balls create a lot of unique pop and simply fly off this beauty upon impact!
Axe Bat, with its revolutionary technologies, claims that it produces BBCOR bat handles that outperform ones on traditional bats. Balls travel more distance when these handles are hit harder.
Origin GS4 is a one-piece end loaded BBCOR baseball bat made from LP1 Alloy material. It features an alloy 2 5/8 inches barrel with Engineered Hitting Zone. This technology frees players from the tension of rotating their bat after every hit and it gives extended performance throughout the barrel.
To maximize bat speed for consistent hitting, this bat has Axe's Patented Handle. At one end of the barrel, a Hyperwhip End Cap is installed which offers a larger sweet spot and faster swing by keeping majority of the weight away from the tip of the bat.
It is available in one size option – 31 / 28 oz with a -3 drop weight. All in all, Origin GS4 is a game changer when it comes to hitting far and with great precision. The general feel on this bat is definitely unmatched!
The Easton Speed bat that is made almost completely of aluminum specifically high-grade Alx100 Performance Alloy. The alloy material is extremely durable and resistant to wear and tear.
The manufacturers send the bat through multiple quality checks and make sure that this bat works for all players regardless of their skill level. So, you can go ahead and purchase this bat for your kid player.
The bat follows a streamlined one-piece design and is super lightweight so it will be easy for smaller players to swing this bat around. Due to its well-executed design, the bat has a balanced swing weight and is ideal for kids just starting out their baseball journey.
The Easton bat also features a concave end cap that helps you hit the ball faster and further afield to effortlessly score a winning home run. Finally, the handle is layered with a generous amount of cushioning to give players a strong and comfortable grip over the bat.
Features:
Alx100 Performance Alloy
1-piece design
Concave End Cap
Balanced Swing Weight
Flex Grip
Questions
What size BBCOR bat should my son use?
The selection of the BBCOR bat depends on many factors and the proper size is one of them. The size of the baseball bats varies between 24-34 inches usually.
For choosing the correct length, you can use the simple length test that is quick and easy. Ask the child to stretch out the arm making a right angle to the body. The dominant arm must be selected. The bat length must be equal to the length of their fingertip to the middle of the chest. This length is considered to be ideal for the child. However, it may slightly vary depending on the position he is playing. For the BBCOR bats, the maximum length allowed is 36-inch.
The size is not restricted to the length only but the weight as well. For the smaller player, the drop weight should be higher. The drop weight of -10 could do the job as it will make the bat lighter and allow the child to swing it with speed and without any hindrance. A heavier bat with the drop weight around -8 or -9 is ideal for the stronger child as it will improve their power-hitting abilities.
There's a test for the weight as well. Ask the child to hold the hand straight out like for the length and let him hold it for 45 seconds. If the child is comfortable in holding the bat for this time without getting tired then this is the right weight. If it feels too heavy then it is not the right weight. When the bat is too heavy, it becomes very difficult to swing it which will eventually affect the bat's speed and performance.
The right-sized bat is needed for the child to enjoy the game so make the selection wisely.
Can a 13 year old use a Bbcor bat?
BBCOR certification allows the bat to be used in high school and collegiate play. Also, it is famous in some junior high schools. So, before checking the age, it is a must to check whether BBCOR bat is allowed in the league or group in which your child is going to play.
Once you know the required standards of the league, you can go for BBCOR bat for a 13-year old. The players who come under the age group of 13-14 years can go for the BBCOR bat having a size of 29-31 inches.
If your child is strong, you can select a heavier bat with this length, while for the smaller child, light and shorter bat must be selected.
Popular Articles: